Central Viet Nam's Hai Van Pass Tunnel will now be available to motorbikes, bicycles and pedestrians while a new tour service will also be launched to take advantage of the site's tourism qualities.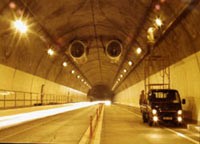 Hai Van Pass Tunnel
According to the Hai Van Pass Tunnel Management Development Company (Hamadeco), the Hai Van Pass Tunnel will begin launching tours on National Day, September 2, at VND5,000 per person, while a new transport service will also carry motorbikes, bicycles and pedestrians across the pass for a fee.
The 6.28 kilometer Hai Van Pass Tunnel lies on Highway 1 in central Viet Nam between the two cities of Da Nang and the ancient capital of Hue.
Patrons of the travel program will be given a tour of the tunnel's inner workings providing technical details of the tunnel's operation and construction while visiting the many observation/control stations as tour guides explain how the tunnel deals with accidents, breakdowns and other daily activities.
Additionally, Hamadeco's transport service will now allow motorbikes, bicycles and pedestrians travel through the pass for VND12, 000/motorbike, VND5, 000/bicycle and VND3, 000/pedestrian.
But don't think you'll be riding your bike or walking through the smooth air-chamber, Hamadeco will arrange a vehicle for you and you'll meet your bike on the other side.
The US$252 million tunnel is the longest in Southeast Asia, constructed from 2000 to 2005 under the leadership of joint-venture Nippon Koei Company Limited Japan and Louis Berger International Inc., USA with the Vietnamese Transport Engineering Design Corporation (TEDI).
The tunnel was built by construction companies such as Vietnam-Japan joint-venture Hazama-Cienco 6 and the joint-venture between Korea's Dong Ah construction company and Vietnam's Song Da Construction Corporation.