Hanoi is currently in the Top Ten vacation destination for winter, according to the US website The Huffington Post.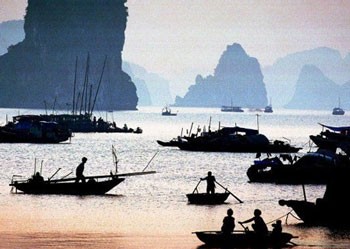 Ha Long Bay, about 170km away from Hanoi (Photo:AP)
"Hanoi maintains a relatively warm and dry winter, which can be a lot more managable than the hot, wet summers. Combined with the city's fascinating history and amazing food, Hanoi a great winter destination," the website wrote.
Vietnam's capital last year drew more than 1.3 millions international visitors and is currently preparing hundreds of cultural activities for its 1,000th anniversary in 2010.
The other Top Ten are St. Petersburg, Russia; Reykjavik, Iceland; Krakow, Poland; Tokyo, Japan; Tallinn, Estonia; Mumbai, India; Edinburgh, Scotland; Berlin, Germany; and Sydney, Australia.