With historic interest and relatively undisturbed natural areas, the authority in the Mekong delta Province of Hau Giang is working on the plan to develop community-based ecotourism products.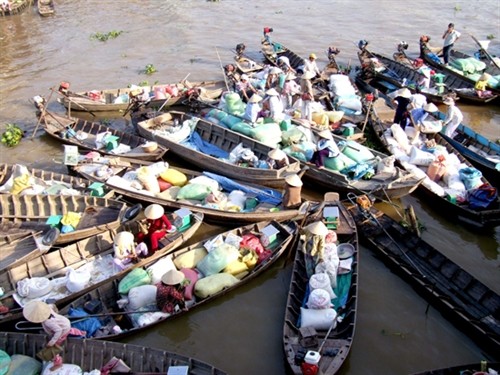 Boats sell goods at Nga Bay floating market in Nga Bay Town in the Mekong Delta province of Hậu Giang. — VNA/VNS Photo Duy Khương
Based on its rivers, fruit orchards, and rural sights and life, the Mekong Delta province is inclined to exploit ecotourism. The province has an interlacing canal system with Nga Bay floating market, Ngoc Hoang Ecological Tourism area and special fruit – pineapple. Cau Duc pineapples, a brand name protected by the National Office of Intellectual Property, have been cultivated under the Vietnamese Good Agriculture Practice (VietGap) standards in Hau Giang Province.
According to the province's plan, tourists will enjoy home-stay in farmers who grow pineapple and then tourists can taste the special fruit and drive bicycles along countryside roads.

Pineapple farmer Vuong Thanh Sim said that visitors will seat on a boat for sight-seeing of the fruit farm and then they will be instructed how to grow, cut and enjoy the fruit in the farm and catch fish in the canal.

One of the highlight of the tour in Hau Giang is a tour to Nga Bay Floating Market where visitors can see and take photos of local residents whose buying and selling busily in the market, a special feature of the Mekong delta region. Next, visitors will experience at 1,500 hectare Mua Xuan Farm which is home of variety of rare birds. Tourists can watch these birds from boats along canals in the natural and wild farm.

To turn tourism industry one of the province's key economy with excellent potential for growth, authority has built three-star hotels and is going to expand banking systems in order to facilitate visitors in paying services and improve traffic infrastructure to tourist interesting places.

Tourism agents said that the home-stay tourism products at pineapple farmers and Mua Xuan Farm are very interesting and it is hoped to attract many visitors especially international tourists.

Deputy head of the Department of Culture, Sports and Tourism Nguyen Duy Tan said that the department is implementing ecotourism projects with more services namely amateur music, handicrafts making and fishing. Additionally, the authority will provide training to farmers – playing as tour guides.