The HCM City tourism sector has made good preparations this year to attract international visitors but more new attractions are needed for them to succeed.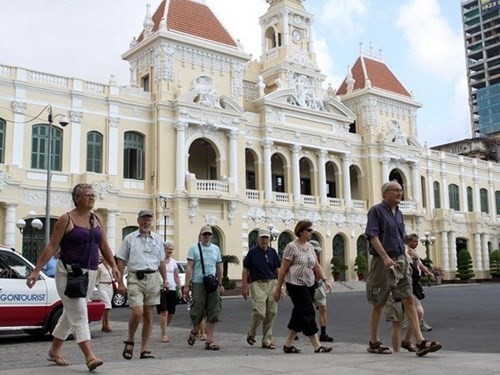 Illustrative image (Photo: vietnamtourism.gov.vn)
"We spent a lot of effort and time to carefully prepare for festivals and improve service quality and are very glad to see good results," Truong Hien Hoa, director of the city Tourism Promotion Centre, was quoted as saying to the Vietnam Economic Times.
Tourism activities have been accelerated this year with the holding of the Ao dai Festival and Southern Colour Festival.
According to the city tourism department, 1.38 million international visitors came to the city in the first quarter and spent 25.8 trillion VND (1.15 billion USD), 12 and 9 percent higher than in the same period last year, respectively.
They came predominantly from the Republic of Korea, Japan and the US, but also included a lot of overseas Vietnamese, thanks to the Lunar New Year that fell in that period.
The number of visitors arriving by ship increased by 80 percent to 9,000.
Last year the city welcomed 4.6 million foreign visitors, accounting for a full 50 percent of the number coming to Vietnam, who spent 94.6 trillion VND, or 30 percent of national tourism revenues.
"The city's share of tourism has decreased because tourism development always accompanies investment in new attractions," Hoa added.
He said the city lacks such new attractions, mentioning several major delayed ones like a safari in Cu Chi District, the Vietnamese History and Culture Park in District 9 and the Bach Dang Culture Park in District 1.
However, the city has been launching some new services, including a boat tour on the Nhieu Loc – Thi Nghe canal.
A successful tourism model needs time to become known and popular, Hoa said.
"We should make each local resident a tourism ambassador."
In the first quarter 2.46 million foreign tourists arrived in Vietnam, an increase of nearly 20 percent year-on-year, while domestic visitors numbered 18.7 million.
The sector's total revenues rose 21.2 percent to 109 trillion VND.
The number of mainland Chinese visitors increased by 66 percent, while it was 30 percent for the Republic of Korea, 160 percent for Hong Kong, 15 percent for Taiwan, and 12 percent for Japan.