A group of 180 passengers from Hong Kong (China), the US and European countries was welcomed as the first international visitors to Ho Chi Minh City in 2014. They arrived in HCMC from the national flag carrier Vietnam Airlines' flight VN599, was started from Hong Kong to Ho Chi Minh City on January 1.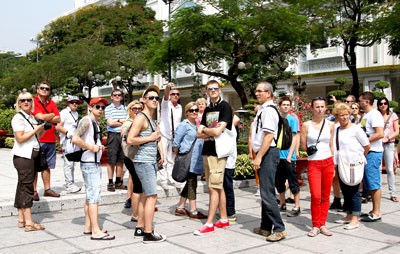 Foreign tourists visit Ho Chi Minh City on December 31.
"The city's tourism industry spent a difficult year because of the economic crisis. However, the number of international tourists arriving in the city increased and exceeded its expectation in the last two months of 2013", said Vice Director of the municipal Department of Culture, Sport and Tourism, La Quoc Khanh.
The city received 4.1 million foreign travelers, accounting for 55 percent of the total number of international tourists to Vietnam in 2013 and posting a year-on-year increase of 8 percent.
The total revenue from the city tourism industry is estimated VND81, 970 billion, up 15 percent over the same period last year, attained the 2013's goal of 100 percent and accounted for 43 percent of total national tourism industry turnover.
The total turnover of the country's tourism sector reached VND190, 000 billion, presenting a year on year of 18 percent.
"Ho Chi Minh City is expected to welcome 4.4 million international holiday makers and achieve revenue of VND 94,000 billion in 2014", added Mr Khanh.
The country received more than 7.57 million international arrivals in 2013, an increase of 10.6% over 2012. The national tourism industry is expected to greet over 8 million foreign visitors in 2014.
Saigontourist, the country's leading travel company has served more than 4.350 international tourists from the US, France, Austria, Russia, Ukraine, Hong Kong (China), Taiwan (China) and China  travelling by land, air, sea and river on December 31, 2013 and in the first two days of 2014.
The enterprise also welcomed the cruise ship SuperStar Gemini carrying over 1,700 passengers and crew who will take a visit of Ha Long and Da Nang on January 1-2.
Saigontourist has cooperated with Malaysia's Star Cruises to welcome more than 70,000 passengers and crew on cruise ship SuperStar Gemini from October 2013 to March 2014, with 58 voyages of 1,200 visitors each.
The company has offered services to over 10 groups of MICE international visitors to Vietnam in the first days of 2014.
Saigontourist received more than 480,000 local and foreign tourists in 2013 with a turnover of about VND2, 650 billion, up 25 percent over 2012.