Arrivals at Ho Chi Minh City this year-end, including overseas Vietnamese, are expected to increase by 20-25% over off-peak rates, say airport authorities.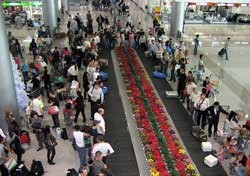 The Tan Son Nhat International Airport
The Southern Airports Authority said yesterday that HCMC's Tan Son Nhat International Airport, which handles over 75% of Viet Nam's total international passengers, is now receiving 18,000-19,000 passengers a day.
The Authority predicts the airport will receive about 22,000-24,000 travelers per day during the year-end peak, from the 25th of the last lunar month to the 3rd of the first lunar month (February 1-9, 2008, in the solar calendar).
On Tuesday, a new US$219-million international airport terminal at Tan Son Nhat officially opened after three years of construction, just in time to support the year-end influx.
With a capacity of 10 million passengers per year, the Japanese-ODA-funded terminal covers 92,920 sq.m., has three floors, a mezzanine, and is expected to expand the airport's passenger-handling capacity by 2.5 times, up to 18 million passengers a year.
National flag-carrier Vietnam Airlines is considering fare discounts of 27-40 percent for night flights to further complement year-end traffic increases.
From 28th January to 5th February next year, fares for night flights between Ha Noi and Ho Chi Minh City are to be cut to VND0.9-VND1.1 million from the current fare of VND1.5 million (US$93.75). For flights between Da Nang City and Ho Chi Minh City, fares are to be reduced from VND950,000 to VND500,000-600,000.
The airlines would begin selling tickets for the holiday season from January 1.
To meet burgeoning holiday-season demand, the carrier has already announced it would operate over 300 additional flights. Between January 24 and February 21, there will be 22 flights daily between Ha Noi and Ho Chi Minh City. In off-peak season there are normally ten such flights per day.