The program is an opportunity to introduce the beauty of Vietnamese destinations as well as affirm that Ho Chi Minh City has not only played a role as a regional gateway it has been a destination gathering typical cultures of Vietnam's regions, contributing to attracting international visitors to Vietnam.
Many tourism promotion activities such as talkshow "A hundred-year journey of Vietnamese Ao Dai", photo exhibition of Vietnamese destinations, traditional musical instrument performance by artists of the Bong Sen (Lotus) Traditional Music and Dance Theatre, drawing on conical hats and traditional dress, cooking show, the program to introduce tourism products of Vietnam and Ho Chi Minh City to government agencies, travel agencies, businesses and the French press were held within the program framework.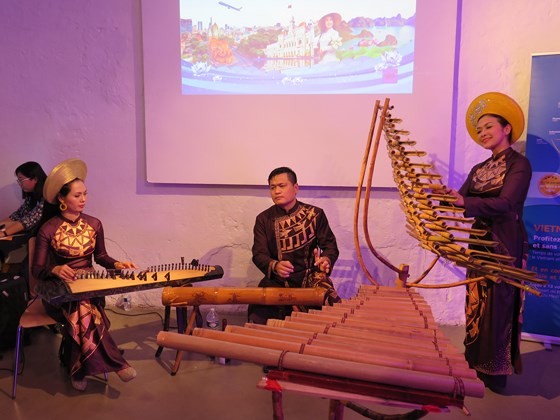 A traditional musical instrument performance from artists of the Bong Sen (Lotus) Traditional Music and Dance Theatre

Deputy Director General of Vietnam National Administration of Tourism Ha Van Sieu said that the signing ceremony of the Memorandum of Understanding (MoU) between the Ho Chi Minh City Tourism Promotion Center and the Vietnam Travel and Transport Marketing Joint-stock Company (Vietravel) is marking the first presence of Ho Chi Minh City tourism industry in the European market.
The Vietnamese Government always creates the best conditions for French companies to come and do their businesses in Vietnam, he added.
Currently, the European tourism market has been evaluated as an important and stable tourism market for the "smokeless industry" of Ho Chi Minh City, especially Germany and France which are two of the five Western European countries whose passport holders allowed 15- day free visa entry and sent the most visitors to HCMC in 2018.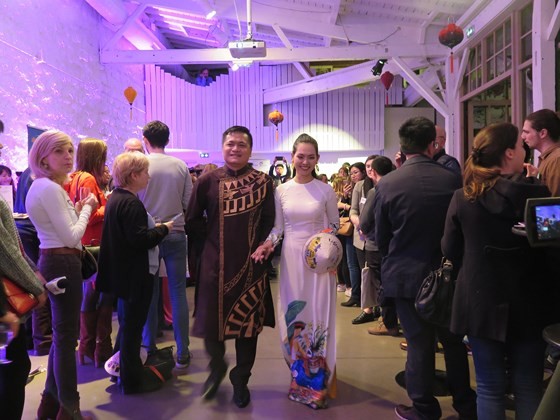 Catwalk in traditional dress- Ao dai