The establishment of an Artists Village in District 2 of Ho Chi Minh City a year ago marked the beginning of river tourism in the city. Now river tours will become more attractive than ever before, what with more investments being approved by local authorities.
New avenues
Thanks to its complex river system and an international biosphere preservation area, the Can Gio mangrove swamp, HCMC does have an advantage for developing river tourism as well as eco-tourism.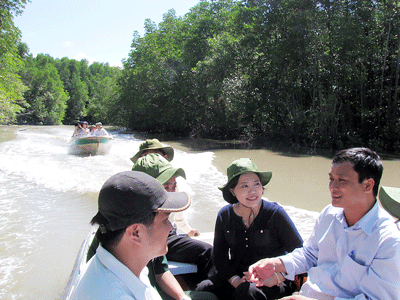 Nguyen Thi Hong, vice chairwoman of the People's Committee of HCMC, on a survey trip of Rung Sac Base in Can Gio mangrove swamp (Photo: SGGP)
Easier said than done, since the establishment of the Artists Village did not bring back much profit at first, and initially discouraged both local government officials as well as crafts people.
However, after a recent survey of tourism in the Can Gio mangrove swamp area, Nguyen Thi Hong, vice chairwoman of the People's Committee of HCMC, said that ever since excursion trips into the swamp began this year, there has been a positive feedback from foreign tourists.
Pham Xuan Anh, director of Viet Tourist Company, and first to introduce cruise tours on Can Gio River, said that in the first five months of this year his company experimented with two river tours along Thi Vai River in Region No.2, in which tourists rowed a kayak deep into the mangrove swamp, visited some salt fields, and climb the Giong Chua mountain.
Tourists were also offered a guided boat tour, which at first was not as popular because tour guides lack biology knowledge of mangrove swamps and its ecosystem. What's more, boat drivers did not have a good choice of stopovers, so tourists could not have a satisfying overview of the landscape.
All these negative points have been gradually remedied, making both the above tours an excellent selection for tourists. In fact, these tours have been welcomed by more than 1,000 foreign tourists, most of who are from Germany and the US.
Director Anh commented that Can Gio District needs more funds to invest in luxury structures, better human resources, and better service for high-income and demanding tourists. In addition, more souvenir and handicraft shops should be opened to satisfy foreign tourists.
The Phi Long Shipyard Joint Stock Company in Tam Thon Hiep Commune has developed a project to construct a 50-hectare complex for a Swift bird-breeding centre and a Swift museum. Moreover, with a substantial fleet of 400 seater and 200 seater boats, the company plans to build more docks for transporting tourists from the southern city of Vung Tau to Can Gio District.
Problems still arise
According to Le Van Sinh, director of the Management Committee of Can Gio Mangrove Swamp, due to certain regulations related to protected forests, the exploitation of water ways for tourism purposes is somewhat restricted.
Therefore, the first thing that concerned agencies should do is to prepare a building plan for docks, floating restaurants, service structures for such activities like boat-rowing and water-skiing in the area near Can Gio mangrove swamp.
They should also file a report to the Prime Minister for approval of use of about 2-3 per cent of the swamp for tourism purposes and for construction inside the swamp, since the exact area of the protected forest is only 6,134 hectares out of a total 33,000 hectares.
During the period 2012 to 2015, the city will concentrate on planning and developing a dock area in Can Gio District for both tourism as well as transport needs. Local authorities are also encouraging private businesses to invest in tourism similar to the model of a Swift bird-breeding centre mentioned above.
By the end of May 2012, the Department of Culture, Information and Tourism in HCMC must finish a report on all possible future routes in river tourism so that the city can address any problems that may arise.