The Ho Chi Minh City's Department of Tourism is carrying out a survey of 23 premises that may be found suitable for converting into high-class hotels, providing an additional 6,000 luxury rooms by 2010, said Mrs. Dong Thi Kim Vui, Director of the city's Department of Tourism.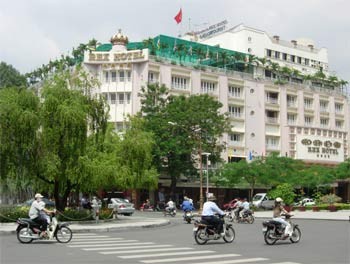 four-star Rex Hotel in Ho Chi Minh City will be ugraded into a five-star hotel in coming time. (Photo:KK)
The city's authorities will continue to examine other places that may be suitable for conversion into accommodation in the 2011 to 2012 period, she added.
HCMC is now facing a lack of luxury rooms. Statistics show that the city has 40 three- to five-star hotels available to travelers, totaling more than 6,624 rooms.
Of which, there are only 11 five-star hotels all of which are located in Districts 1, 3, and 5, and account for 60 percent of the total number of rooms.
The number of high-grade hotels in HCMC is rather small in comparison with the large tourism hubs in Thailand and Malaysia; Bangkok has 29 five-star hotels and Kuala Lumpur has 28.
The increasing number of visitors to HCMC requires the local authorities to concentrate on improving infrastructure and the construction standard of hotels.
The city's authorities will cooperate with travel firms to transfer visitors to the town's adjacent areas and improve the city's accommodation centers that are under State management, such as the government's hotels and guesthouses, Mrs. Vui said.