The 2007 Tourism Festival in Ho Chi Minh City, aiming to promote Vietnamese tourism services will be held at the Dam Sen Cultural Park from April 20 to 22.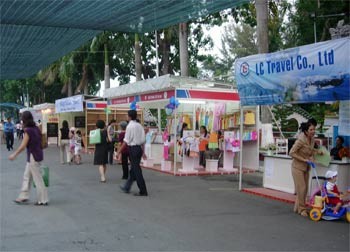 The 2006 HCMC tourism festival was held at the Dam Sen Cultural Park. (Photo:KK)
The festival presents an opportunity for tourist companies to publicize their brand names, as well as introduce and offer their products to consumers.
The event also includes interesting cultural activities such as "The Southern Tasty Food" food fair, Don Ca Tai Tu Nam Bo (Southern amateur music) performances, a photo exhibition, floating market, folk games and others.
The Ho Chi Minh City Tourism Department will join other relevant departments to prepare for the festival. The organizers expect that the event will attract a great number of visitors and businesses.