Ho Chi Minh City's phenomenal 40 percent annual growth in tourism-industry turnover, to VND15.5 trillion (US$1 billion) in the first nine months of this year, has led to a shortage of luxury hotel rooms and consequent price increases. Travel agents express mixed reactions to the rise.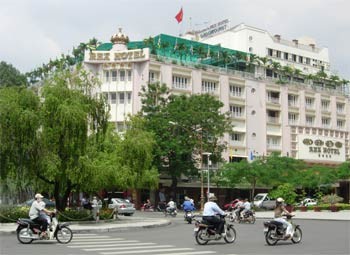 Four-star Rex Hotel in HCMC  (Photo:KK)
High-end hotels in HCMC are now regularly booked solid during the tourist high season which normally sees average room prices increase by 50 percent, to US$234 a night for 5-star and at least US$85 for 4-star, this year.
To minimize costs, travel firms usually try to book rooms just days before visitors arrive, but they often cannot.
"Escalating room prices have caused a lot of hand-wringing in the industry," said Destination Asia's Nguyen Minh Ngoc. "We cannot increase our own prices on packages sold several months ago when room prices suddenly rise."
Worse, noted Focus Asia's Sales and Marketing Manager Patrick Gaveau, "Tourists have started avoiding Viet Nam because of room prices. Previously, low-cost rooms were one of the nation's competitive advantages."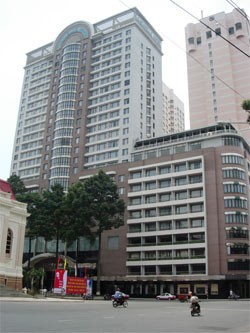 Ffive-star Caravelle Hotel  (Photo:KK)
On the other hand, Celadon International Tourism Consulting General Director Paul Stoll says it's better for Viet Nam become a destination of the rich, people willing spend more for better quality services and accommodation.
Yet going upscale while increasing visitors' numbers will require local authorities renew their efforts in improving infrastructure and construction standards of hotels.
HCMC received more than 1.9 million international visitors over 2007's first nine months, with four- and five-star hotels receiving most of the seasonal intake, which peaks in October.
Statistics show HCMC is the nation's tourism epicenter, with Tan Son Nhat Airport accounting for some 60 percent of all international visitors, most of whom either stay for a spell in HCMC before visiting other parts of the country or make the city their base of exploration.