Saigon Railway Company launched the Saigon-Bien Hoa train route this morning with 11 train trips departing from the Saigon Railway Station, reaching Song Than station in Binh Duong province and ending at Bien Hoa station in Dong Nai province.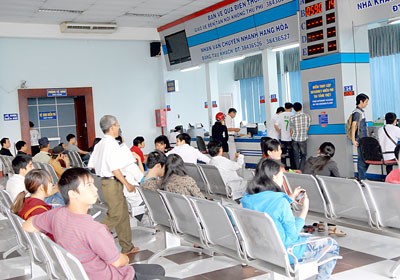 Passengers buy tickets at Saigon Railway Station (Photo: SGGP)
Ticket fare is VND10,000, equivalent to bus fare on the same route. Children of less than six years old are permitted to travel without tickets. Passengers can also take their motorbikes on the trains free of charge but their petrol tanks must be empty.
 
Because the Ghenh Bridge has collapsed, these trains will stop at Di An station instead of travelling to Bien Hoa terminal. In HCMC, the train will pick up and drop off passengers at Go Vap and Binh Trieu stations.
 
Trains will depart from Saigon Station from 4:40 p.m.-9:25 p.m. everyday.
 
Director of the HCMC Department of Transport Bui Xuan Cuong said the department would connect the train stations with some bus routes, supplement traffic regulators at intersections to prevent traffic jam and popularize the new service to citizens.