This year the Vietnamese government had announced the Tet holiday schedule much earlier, prompting people to rush to book tours, with   travel agencies having less time to prepare for a variety of interesting tours.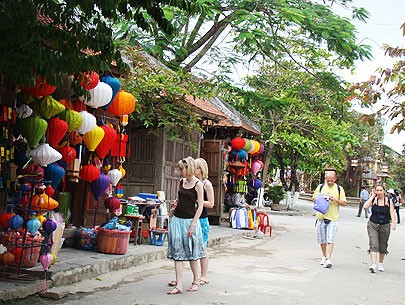 International visitors in Hoi An
More people want to take long distance tours, since this year the Tet holidays will be for 9 long days. Some local travel agents report that the number of inbound and outbound tours registered during Tet have increased by 30 percent compared to the same period last year.
Traditionally, for generations the Vietnamese people have preferred to spend Tet holidays with their family members at home. This culture is changing fast, and many now look forward to using their free time to take tours either within the country or abroad.
Travel agencies inundated with tour bookings
According to travel agencies, 70 percent of tourists have registered for tours that offer low airfares.
Saigon Tourist Travel Company is organizing more than 150 domestic tours during the Tet holidays, serving more than 120,000 tourists nationwide, an increase of 20 percent compared to the same period last year.
The number of overseas Vietnamese account for 31 percent. The destinations most popular with overseas Vietnamese are Nha Trang, Da Lat, Hue, Hoi An, Phong Nha, Hanoi and Ha Long Bay.
Fiditour Company has registered about 10,000 tourists for inbound tours and 8,000 for outbound tours during Tet, an increase of 24 percent compared to the same period last year.
Viet Travel Company said that 3,500 tourists will depart on January 24 (January 2 of the lunar calendar), of which 1,900 are registered for inbound tours and 1,600 for outbound tours.
The number of tourists registered for Thailand tours have increased this year. 600 out of 3,000 tourists registered for tours to Thailand at Viet Travel.
This proves that a long Tet holiday schedule motivates people to travel to far off destinations.
Travel agencies welcome international visitors
Many local travel agencies are preparing to welcome international visitors during Tet in Vietnam.
Saigon Tourist will welcome more than 2,000 international visitors from European countries, including crew and passengers of Costa Classica cruise ship on January 22 (December 29 of the lunar calendar) on a visit to Ha Long Bay.
On January 23 (January 1 of the lunar calendar), Saigon Tourist will see off the Costa Classica cruise ship from Hai Phong to Da Nang and the Superstar Aquarius cruise ship with 1,000 international visitors and crew members from Da Nang to Hue.
On the same day, Saigon Tourist will also welcome Indochina river cruise liner with more than 50 international visitors from France and Belgium for a five days tour of Chau Doc – Sa Dec – Vinh Long – My Tho – Ho Chi Minh City.
Mekong Delta provinces are proving to be attractive destinations for international tourists.