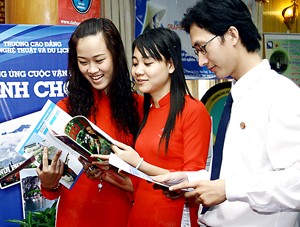 Students are seeking tourism documents at conference -Photo:La Anh
The Vietnamese tourism industry is ranked 5th in the Asian region, however it has been evaluated as slow developing. At present, tourism services in Viet Nam are being surpassed by those in the international market. A national training link between Government, schools and tourism enterprises has still not been developed. A conference about the training of human resource in the tourism industry was held in HCMC on 7 March 2008.
Many international visitors when they arrive in Viet Nam say that the country has beautiful landmarks, diversified culture, and friendly and hospitable people. The Deputy Minister of Information, Sport and Tourism, Mr. Tran Chien Thang, says that although Vietnamese people are trying to promote national tourism to international visitor, they forget that tourism is valued by quality above quantity. Mr Thang suggested that this is the reason why many international tourists did not return.
According to a report, in 2010 Viet Nam will welcome between 5.5million to 6million international visitors and about 25,000 domestic visitors. This statistic means that the number of trained tourism staff needs to increase by about 19,000 every year. However, the total students being trained at schools around the country only amount to approximately 13,000 per year. The rate of untrained laborers working in the tourism industry in Viet Nam is nearly 60%.
The Vietnamese tourism industry is dropping into a crisis with the lack of qualified human resources. Mr. Nguyen Thien Nhan, Deputy Prime Minister and Minister of Ministry of Education and Training made this comment after the conference. He went on to say that enterprises should stop complaining about the quality of training, and join the training process and begin ordering tourism staff directly from schools. In addition, training institutions should soon develop new subjects, evaluate the current content of each course and aim to meet standard training methods from Australia or Europe.
Mr. Nhan added that the Ministry of Information, Sport and Tourism and the Ministry of Training and Education should have an evaluating period and announce the assessed quality, available education facilities for the period of 2008-2009. The Ministry of Finance and other related ministries should organize a meeting to discuss financial solutions to promoting training and tourism industries meeting with social demands.
Box:
The main solution to develop human resource for the tourism industry
- Strengthening the Government's management of training
- Building standard training scheme
- Developing training net from local to central or city to remote areas
- Improving tourism trainers and managers as well as available material facilities
- Building better cooperation between tourism enterprises and schools