A ceremony welcoming the 1.6th million visitor visiting the central province of Quang Nam was held in Hoi An ancient town on December 31 by the Provincial Department of Culture, Sports and Tourism.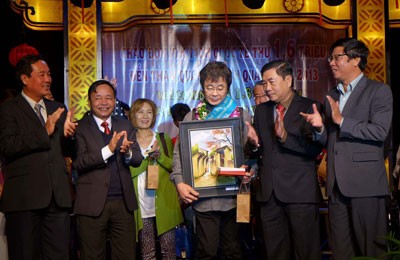 Quang Nam Province's leaders offer gift to Mr. Fujita Naechika, the 1.6th million visitor.
The 1,599,999th and 1.6th million tourists were Mr. Fujita Naechika and Ms. Kataoka Haruna from Japan.
Mr. Fujita Naechika said it was the first time  his family visited Vietnam on the special occasion of New Year's Eve 2013. It would be an unforgettable memory about Vietnam. He also wished people around the world a happy new year.
In related news, another ceremony welcoming the 3 millionth passenger of 2013 was held at Cam Ranh Airport in the central coastal province of Khanh Hoa on December 28.
The Hue Monuments Conservation Center held a welcome ceremony for the second million tourist to visit Hue in 2013 on December 24.
On the same day the Department of Culture, Sports and Tourism, Tourism Association of Ho Chi Minh City, and Vietnam Airlines also held a welcome ceremony at Tan Son Nhat International Airport to welcome the fourth million international tourist to the city.