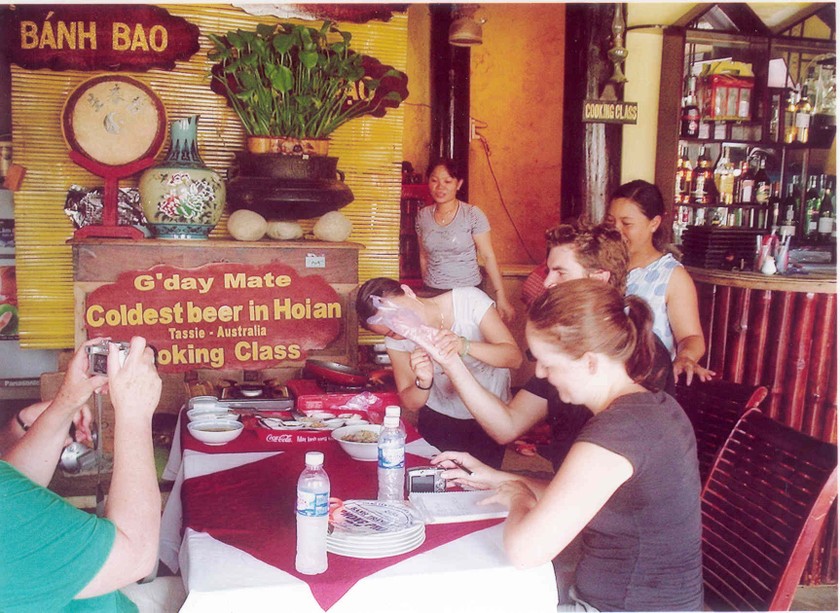 Australian visitors learn how to make spring rolls at the Yellow Flower restaurant. photo: Luu Vien
Hoi An Town is already well known as a world heritage site and a major tourism destination in Vietnam.
The 17th century architecture, the Japanese-built bridge with a tiled roof and the Phuc Kien Pagoda are all worth visiting more than once.
Visitors also discover quickly that the town has its own culinary specialties - cao lau, mi quang (Quang Nam noodle), com ga( chicken rice), banh dap ( beaten baked cakes), banh bao, and banh vac ( also called white rose cakes), for instance.
However, a new trend that is emerging allows visitors to learn how to make these dishes themselves. It is a fun way to spend valuable time in the town, interact with residents and go further into culinary exploration than just eating at various restaurants and trying out new dishes.
Local restaurants that have begun to offer regular cooking classes say they are acting on requests from the visitors' themselves.
I watched as a group of four visitors from Australia attended a cooking class held at the Hoa Vang restaurant (Yellow Flower restaurant) at the riverside on Bach Dang street.
They were learning to cook three special dishes: spring rolls, steamed shrimp in coconut, and baked fish in banana leaves.
After an hour of receiving instructions from the restaurant chefs, the visitors pronounced their experience satisfactory, and enjoyed the dishes they had cooked themselves.
Pham Thi Tram, the restaurant owner, told me that the foreign visitors liked Vietnamese food very much and were proud to learn how to cook them, so that they could show off their cooking ability back home.
The class has been regularly held at her restaurant at the request of the visitors, and most are enthusiastic learners, she said.