The 2009 Quang Nam – Heritage Journey is planned to open June 4, with a vintage vehicle parade taking centre stage, the festival's committee announced recently.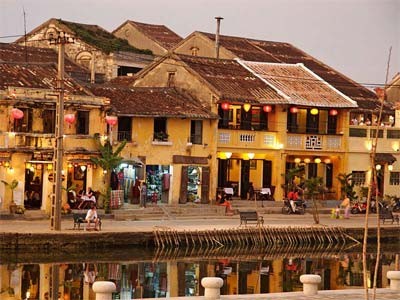 Hoi An Ancient Town lighting up and welcoming the night
The four-day festival will take place at Song Hoai Square, Hoi An Ancient Town. 
The festival will feature Hoi An arts at "Hoa si va pho co Hoi An" (Painters and Hoi An ancient town) and a photo exhibition. 
The Hoi An Museum of History and Culture will also celebrate the festival with two exhibitions, one to present Chu Dau pottery (a Vietnamese traditional handmade pottery and a photo exhibit), and "Thang canh Hoi An" (Hoi An landscape).
The festival will open with a contest, "Skillful waiters," and a folk culture gala at the An Hoi Sculpture Park. 
The next day will see the vintage vehicles parade.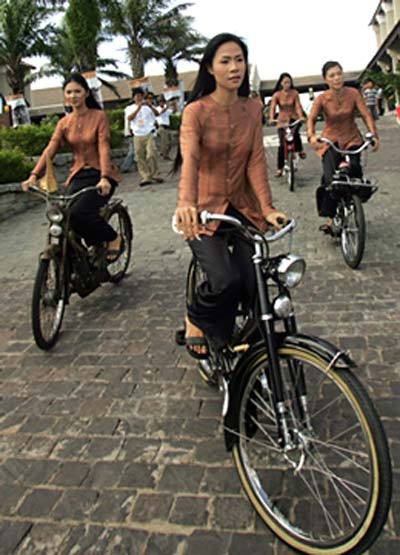 Vietnamese models riding vintage bicycles at the vintage vehicle parade in 2007
This year, the parade includes mobylettes, vespas and vintage cars from the 30s and 70s. The parade, including Miss World 2008 Ksenia Sukhinova, will start from the Palm Garden Resort Hoi An and later visit Phuoc Kieu trade village, the venue for the annual boat race and the Dien Ban food and drinks fair.  
In the early evening, the vintage vehicles will stop at the Vuon Tuong Park for an awards ceremony. Two prizes will be offered, including "The most impressive vehicle" and "The most original vehicle." 
On the same evening, ethnic groups from Vietnam and overseas will present traditional songs and dances around Hoi An Ancient Town and Song Hoai Square.  
The closing events on June 6, "Khat vong Thu Bon" (Thu Bon River's aspiration), and the Hoi An Legendary Night are two of the festival's highlights.
The last day will celebrate the fishing village festival at Cua Dai Beach with variety of mini events, such as a knitting fish nets contest, a beach soccer tournament, art kite contest, a food market and many traditional beach games.  
The Quang Nam – Heritage Journey has been held annually since 2006, with an aim to introduce the beauty of both the landscape and the culture of Hoi An Ancient Town and Vietnam to foreign tourists.