Thousands of people have crowded the band train stations in Ho Chi Minh City and Hanoi since yesterday afternoon, wishing to return to their hometowns or go on vacation.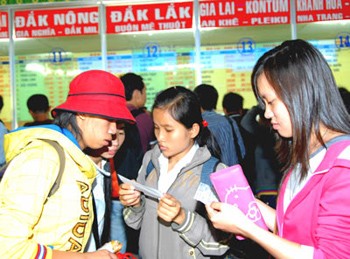 Passengers buying tickets at Mien Dong Bus Station in HCMC on April 29 (Photo: SGGP)
People swamped the HCMC Mien Dong Bus Station all day, wanting to buy tickets mainly for Phan us Thiet, Vung Tau, Da Lat and Nha Trang.
Bus companies have mobilized more coaches to serve the increasing number of passengers.
The bus station management has asked travel companies not to increase the fares by more than 60 percent of the normal price.
Nguyen Van Thanh, deputy director of the Saigon Railway Station said that on Friday alone, the station received around 10,000 passengers.
As tickets on the route between HCMC and Nha Trang ran out, the station added seven extra train trips.
At the entry spots along13 Highway, Hanoi and 1A Highway, several workers from the industrial and export processing zones were seen waiting for buses to return to their homes on Friday.
In Hanoi, bus stations remained crowded throughout the day afternoon even though an extra 350 buses were added.
Since 3 pm, passengers and vehicles streamed into My Dinh, Giap Bat and Nuoc Ngam bus stations. By 4 pm, a three-kilometer long traffic gridlock occurred outside the My Dinh Station, section of Pham Hung Street to Thang Long Bridge.
The most crowded routes were between Hanoi to Thanh Hoa, Nghe An, Thai Binh, Nam Dinh, Yen Bai and Tuyen Quang provinces.
Heavy traffic congestion also took place within the city on Truong Chinh, Le Trong Tan and Nguyen Thai Hoc Streets and on O Cho Dua and Thanh Xuan-Khuat Duy Tien crossroad. Similar conditions prevailed on the entry routes to Hanoi along 1A Highway and 1B Highway.