The third International Hong Kong-Nha Trang Sailing Regatta will be held from October 15 to 21.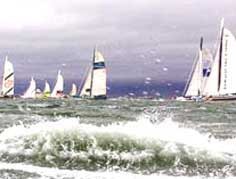 The third sailing race will take place on October 15 to 21.
The race has attracted 10 yachts from the UK, the US, China, New Zealand, Malaysia, Australia, Hong Kong (China), the Philippines, and Viet Nam.
It will start in Hong Kong on October 15 and finish in the coastal resort of Nha Trang on 18. The contestants will perform on the beach in front of April 2 Square on the 19th.
The biennial competition is organized by Saigontourist, Vinacapital, the Hong Kong Royal Yacht Club, and Goodman Marine International Overseas, a professional international sailing organizer based in Singapore. The regatta was first held in 2004.