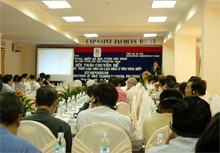 At the conference, Photo:KK
The Sea Festival hosted by Ba Ria – Vung Tau Province in April 2006 is a good opportunity to introduce the province's potentials, history, cultural activities, folk tradition to foreign tourists and investors.

The conference "Developing Direction of MICE Tourism in the Coastal Provinces" organized in April 12, 2006, is important in figuring out the solutions to the problems of tourism development in our country, especially in Ba Ria – Vung Tau Province.
MICE tourism in Viet Nam

In fact, MICE tourism has recently been developing strongly in Asian countries such as Hong Kong, Thailand, Singapore, China, Malaysia or USA, European countries France, Germany, etc.

Viet Nam has also organized major events successfully with the participation of world leaders, senior officials and high-level business delegations not to mention other events of various sizes, such as Asia – Pacific Economic Cooperation (APEC), Francophone summit conference, an association of French speaking countries.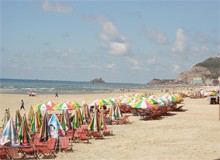 Vung Tau beach, Photo:KK
According to the representative of Saigontourist, Viet Nam's advantage as a "very new destination" which is very suitable for the new trend of MICE tourism, with its diversified culture, rich sources of food and drink, nice weather and well-known security.

Viet Nam has beautiful landscapes such as Da Lat, Nha Trang, Phu Quoc, Hoi An, Hue, Da Nang, Vung Tau, Phan Thiet or Ha Noi and Ha Long Bay, etc.
Why is MICE tourism not developing more strongly yet?

Conditions to attract MICE tourists
According to Mr. Ricardo Perran, managing director of Anoasis Beach Resort – Long Hai, Viet Nam has some difficulties in organizing major congresses.
Therefore, Viet Nam should participate more as an active player in the Global Tourism Associations such as "Society of Incentive Travel Executives (SITE)", "The Global Association of the Exhibition Industry", etc.

He added Viet Nam should also pay attention to service suppliers; hotels, restaurant, airport, post-conference options, and cultural leisure activities (both historic and modern). Generally, internationally-qualified services are still the main key to the selection of a destination.

Dr. Pham Trung Luong, Institute for Tourism Development Research (ITDR), added tourist agencies should develop standard tourism services such as shopping and entertainment areas; social services (post and telecommunications, banking, transportation…); safety and security; landscape and environment.


According to the experience of Professor Kaye Chon, Ph.D., CHE, School of Hotel and Tourism Management of Hong Kong Polytechnic University, focused marketing strategies are "shopping and dining", excellent services and measures to prolong visitors' stay.

70 percent of Hong Kong's land is rural and natural. It can develop ecotourism to attract tourists. Besides, tourists can visit Hong Kong Disneyland.
In addition, Hong Kong has also the best hotels (Ritz-Carlton, Grand Hyatt, Shangri-La Kowloon) and airlines in the world (Hong Kong airport, Cathay Pacific). Convention and exhibition industry develop strongly.

Mr. Kaye Chon used to contribute to organizing the "International Conference on Tourism Development Potentials and Investment in Viet Nam" in 1993 and 1996 and other conferences in Thailand, Malaysia, Hong Kong, Philippines, Taiwan, China and Macau.

Speeding up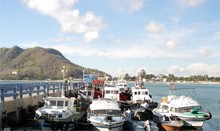 Cau Da wharf in Vung Tau City, Photo:KK
With advantages such as beautiful beaches, hot spring, primeval forest, close to Ho Chi Minh City, diversified transport (by land and sea), easy traffic system, Vung Tau really has potentials to attract MICE tourists. Many cultural activities, big conferences have been organized in Vung Tau.

However, Vung Tau has not been able to attract tourists. The products of services and tourism are so poor. And it still lacks some basic conditions to develop, including: material facilities, attraction (it has not got many special products to attract tourists), human resource (neither professional nor well-qualified), said Mr Tran Tuan Viet, chairman of Ba Ria – Vung Tau Tourism Association.

Ms Le Hoang Yen, director of CITE (Ben Thanh Tourist Company) added there are no five-star hotels, centers for big conferences, exhibitions and shopping, international fairs, diversified tourist products, etc; Vung Tau has not met the international demands yet.

To meet the requirements, she said, Vung Tau should pay attention to construction of infrastructure, building large convention and exhibition centers, expanding recreation centers, developing services, protecting tourism environment, especially training human resources professionally and strengthening promotion and spread MICE tourism.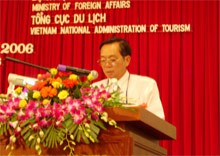 Mr.Nguyen Trong Tin, Photo:KK
Consequently, the province authorities should bring out products suitable for this tourist type. The products must impress tourists with a special image of Vung Tau and be obviously based on major factors: material facilities and human.

Mr.Nguyen Trong Tin, Director of Ba Ria – Vung Tau Tourism Department, expects that through this festival Vung Tau can cooperate with other cities and provinces in the country in many fields and boost MICE tourism in Ba Ria –Vung Tau Province.

The conference was attended by Ms Vo Thi Thang, chief of Viet Nam National Administration of Tourism, Mr.Nguyen Trong Tin, Director of Ba Ria – Vung Tau Tourism Department, representatives of tourist companies, big hotels and resorts, domestic and foreign investors.
Related articles:
- Ba Ria – Vung Tau Sea Festival 2006 Opens
- Vu Ngoc Diep Wins Miss Sea 2006
- Boat Races, Kite Show Beautify Sea Festival
- The Flourishing Mice (*) Visitor Market