During Hue Festival 2012 from April 7 to 15, the culturally rich, traditionally vibrant and spiritually enriched world of people from the central provinces of the country will come alive under the theme "Cultural Heritage-Rendezvous with Historic Cities".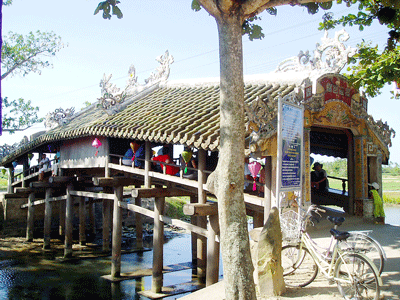 Thanh Toan Tile Bridge, where a rural market will be organised ( Photo: SGGP)
Residents in the central province of Thua Thien-Hue will actively participate in the Hue Festival as "real artists" and not as spectators.

In the peaceful surroundings along Thanh Toan Tile Bridge across the Nhu Y River in Thuy Thanh Commune, visitors will see real replicas of ancient markets of this rural area.

Near the beautiful tile bridge a scene of a bustling small market in ancient rural area in central Vietnam has been created. Here buyers can select specialties of the rural Huong Thuy Commune such as rice, sticky rice, wine from Chuon village, handicrafts, bamboo items, as well as enjoy traditional cakes and sweets like bowl-shaped cakes, glutinous rice cakes wrapped in bamboo leaves, and sweetened corn porridge.

Visitors can also join in interesting folk activities like chess, fishing, blind man's bluff, sack race, walking on a miniature bamboo bridge and a slow bike race.

Besides activities, visitors can see the 500-year-old Phuoc Tich ancient village in Phong Hoa Commune in Phong Dien District, a highlight of the tour 'Huong Xua Lang Co' (Fragrance of ancient village). The structure of these houses in the village is typical of the north central region.

The Ministry of Culture, Sports and Tourism has identified 24 ancient houses in the village, including one built in 1850, as heritage and cultural historical monuments.

Unique pottery souvenirs of the village are also popular with travellers. Pottery artisan Doan Van Lua said that Phong Dien authorities have spent a lot on restoring the pottery handicrafts since 2006. Japanese pottery artisan Mizokami Yoshihiro helped the villagers restore the traditional handicrafts such as jars and pots as well as souvenirs to suit the modern styles.

Moreover, 23 art troupes from 13 countries and territories have registered to participate in the Hue Festival, including France, England, Denmark, Japan, South Korea, Australia, Israel, India, Mexico, United States, Philippines, Russia and South Africa. Domestic art troupes are also preparing for the festival.

Besides events such as "Royal Night"; "Oriental Night"; "Huong River Legend"; "Ao Dai" Festival; Imperial Palace Festival; Nam Giao ceremony; traditional trade villages; tours to explore the beauty of Hue ancient capital; the Hue Festival 2012 will have some new programmes as well.

Historical films, a Festival of drum and percussion instruments titled "Resounding Vietnam's Spirit", a festival to celebrate the 325th anniversary when Lord Nguyen Phuc Thai chose Phu Xuan as capital of South Vietnam, "The peaceful world" programme to be staged and a royal art performance to honour Hue cultural heritage values will also be held during the festival.