The International Travel Company Oxalis, which is organizing tours to the world's largest cave Son Doong in Quang Binh Province, said that more than 400 international tourists have booked for tours in 2014 at US$3,000 per head.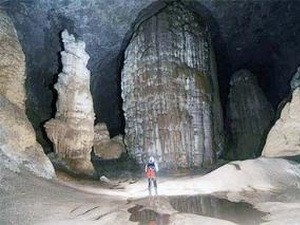 Son Doong Cave -the world's largest cave (Photo:SGGP)
More than 600 tourists across the globe have booked for 2015 because they are afraid that the tours will all be sold out said Oxalis Travel Company
For ensuring comfort and safety in the tours, the Travel Company has organized the tours well to provide both comfort and safety, particularly along the path that tourists will take on the tour.
The organizers have set up health facilities to check that no one suffers from undue high blood pressure and other health conditions. "Therefore over 1.000 foreign tourists had been refused to make a Son Doong tour due to health reason", added Oxalis Travel Agency.
The tourist explores Son Doong Cave (Photo:SGGP)
Son Doong cave is the world's largest cave, located in Quang Binh province, Vietnam. The name "Son Doong" cave means "mountain river cave".