Hundreds of people flocked to Mien Dong Bus Station on Sunday as it resumed sale of Tet tickets to the northern and central regions for travel from January 16-20, 2012.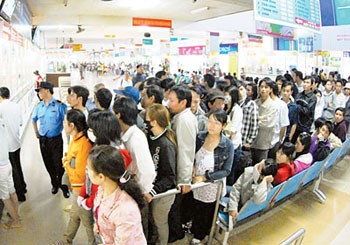 Passengers queue up to buy Tet tickets at Mien Dong Bus Station on December 25 (Photo: SGGP)
Since early morning, the station was swamped by hundreds of people queuing up in front of ticket counters, waiting for them to open.
The Tien Thanh Company ticket counter was a scene of much chaos with people jostling for tickets to Phan Rang, Dong Ha and Phuoc Thien.
This unprecedented ticket demand led transport companies to open more counters near parking areas to ease pressure at the station.
Despite the bedlam and crowded conditions, most of the passengers succeeded in acquiring a ticket. Nguyen Phuoc Sinh said that he was in queue since 6:30am and had finally succeeded in buying a ticket to Binh Dinh Province for the 26th day of the 12th lunar month.
Most of the high-end service providers like Chin Nghia, Phuong Trang, Sao Vang, Cuc Tung and Phi Long announced sold out Tet tickets on Sunday.
A representative of Mien Dong Bus Station said that the number of passengers this year have increased by 3-5 percent since last year.  People mainly travel around the 24th to 27th day of the 12th lunar month. On peak days even 50,000 passengers could crowd the station.
 
Routes having the highest demand are to Hanoi, Thanh Hoa, Nam Dinh, Dong Ha, Thua Thien-Hue, Thai Binh, Nghe An, Ha Tinh, Quang Ngai, Binh Dinh, Khanh Hoa, Gia Lai and Dak Lak.
Mien Dong Bus Station has proposed an increase of 200 buses and has permitted transport companies to hire extra buses to transport passengers during the Tet holiday season rush.