The Greenlines 2 Hydrofoil that daily carries passengers between Ho Chi Minh City and Vung Tau City caught fire during fuel re-filling in Vung Tau Sunday. No deaths were reported.

The fire broke out from the engine room in the morning when the speedboat was filling up oil at Cau Da Port. Workers on the hydrofoil sounded out and firefighters at the port put out the fire immediately. The damage was not considerable.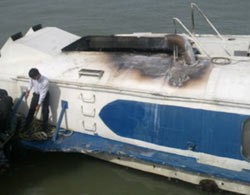 The fire vestige seen at the engine room (Photo: VOV.vn)
About 400 liters of oil had been pumped into the tank before the fire broke out.
The incident took place before 9 AM when the hydrofoil was about to leave for Ho Chi Minh City.
The hydrofoil is a property of Ho Chi Minh City-based Greenlines Company.