From May 15, visa charges will be waived for foreign tourists who come on tours under the "Impressive Vietnam" promotion, the Vietnam National Administration of Tourism recently announced.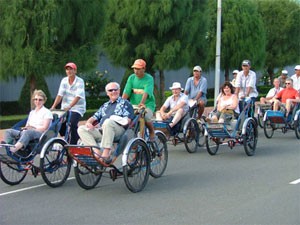 International tourist enjoy a sightseeing by pedicap in the city (Photo:du-lich.chudu24)
All overseas visitors will be entitled to a free tourist visa if they visit Vietnam on tours organized by travel companies that are taking part in "Impressive Vietnam."

Tour packages have officially been launched on the website www.impressivevietnam.vn.

Organized by the Vietnam National Administration of Tourism, Impressive Vietnam is the country's largest promotion so far, attracting the participation of 35 travel companies and 60 luxury hotels nationwide.

Designed to boost tourism in 2009 during the current global financial crisis, the promotion will last until September 30.