The World Tourism Organization, the Netherlands Development Organization and a third called the Spanish Agency have signed a memorandum of understanding with the Viet Nam National Administration of Tourism to provide US$70,000 for promoting the craft villages in Ha Tay as tourist destinations.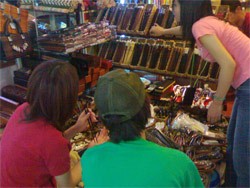 Vietnamese handicraft products are favourite souvenirs to foreign visitors. (Photo:KK)
The project is part of an international initiative to reduce poverty in Viet Nam by combining tourism and handicraft village development.

The money will be used for planning the campaign, vocational training, and enhancing the planning and management abilities of local authorities.

With over 1,800 at last count, Ha Tay near Ha Noi has more craft villages than any other province in Viet Nam.

In recent times the provincial and district authorities of Ha Tay have teamed up with the tourism industry to hold handicraft village festivals and bring tour parties to the silk-weaving village of Van Phuc, the embroidery village of Quat Dong, the village of Chuong, where they make the ubiquitous conical hats out of palm leaves, and other such places.