In past 5 years, many foreign airlines have opened new flight routes and extended flights to Viet Nam. In the coming time, the facts that Viet Nam will join WTO and the ASEAN agreement for visa exemption, "ASEAN Open Sky " will be launched are the two important keys to attract the international airlines to Viet Nam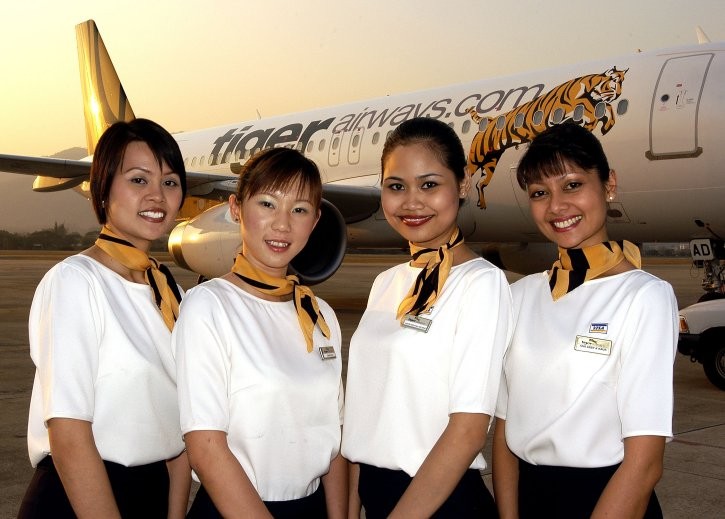 Tiger Airways, a low-cost carrier being present at Viet Nam
This year, Korean Airlines increased to seven from four flights per week of the HCMC – Seoul – HCMC route. According to Ngo Tran Trong Luat, Sale manager of Korean Airlines in Viet Nam (VN), Viet Nam is one of the potential tourism and airline markets in Asia and the world; Korea Airlines' business operation achieved many favorite conditions. Moreover, Viet Nam is admission into WTO is the reason why Korean Airlines decided to increase flights to the country.
Air-France also increased 7 flights per week instead of 5 for the flights from Viet Nam to France with the transit in Bangkok, of which there are 3 Ha Noi-Paris-Ha Noi flights and 4 HCMC-Paris-HCMC.
In early July, Aeroflot continued to run flights from HN-Moscow-HN after an intermission for 10 months due to the lack of aircraft.
Royal Brunei Airline (RBA) has officially opened the new flight route from Bandar Seri Begawan to HCMC. Viet Nam is the sixth country in ASEAN to be invested by RBA, following Singapore, Malaysia, Indonesia, Thailand and the Philippines. According to a representative official of RBA, its purpose is to introduce HCMC, a tourist and shopping destination to Brunei people and vice versa.
China Airlines did not miss this golden opportunity. Air China opened the first flights out of HCMC-Beijing-HCMC. This is interesting information to tourists who live in HCMC, because they do not have to take flight to China via Ha Noi airport in the future.
As for low-cost carriers, after Tiger Airways (Singapore), Thai Air Asia (Thailand), Malaysia Air Asia will also open the flight routes from Kuala Lumpua to Ha Noi next October; JetStar (Australia) will open direct flights from Sydney to HCMC in November with 3 flights per week. A boom of low-cost carrier is predicted in VN in the coming time.
Up to now, 30 international airlines have been running in Viet Nam. With the increasing wave of investment and tourism, it is predicted there will be more and more intermational arilines coming to Viet Nam.
During the first 8 months of 2006, the total of visitors who arrived and left through the Southern Airport Group was over 5.8 million, up 11% year-on-year, among whom international visitors were more than 3.1 million and local ones were 2.7 million.

- Viet Nam Airlines will increase flights from HN/HCMC to Frankfurt (Germany) to 5 flights per week in October – 3 Ha Noi - Frankfurt flights and 2 HCMC - Frankfurt flights.

- Pacific Airlines is planning to open the flight out of HCMC – Bangkok (Thailand) by the end of 2006.