The fourth International Travel Expo 2008 in Ho Chi Minh City opens today to sell the "mesmerizing charms" of Cambodia, Laos and Vietnam, with eco-tourism as the watchword.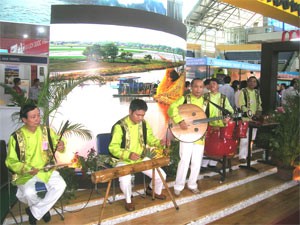 Vietnamese tourim booth at the expo (Photo: Truong Son)
Themed "Mesmerizing Charms of three Countries; one Destination", the expo will focus on synergistic promotion of tourism in the Indochinese nations of Cambodia, Laos and Viet Nam. 
It will feature cultural performances demonstrating the rich heritage and unique traditions of the three countries.  
The exhibition provides the space for domestic travel agencies to meet and offer tour packages to international buyers. This year more than 110 prospective clients from around the world are attending the event, an increase of over 30 percent in comparison with last year. Seventeen provincial tourism departments of Viet Nam are also participating in the expo.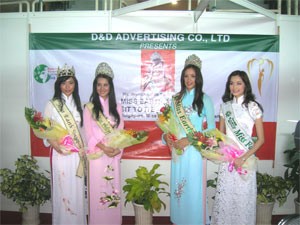 Miss Earth Singapore, Miss Earth Philippines, Miss Earth 2008 Jessica and Miss Fashion (L-R) (Photo: Truong Son)
Reigning Miss Earth 2007 Jessica Nicole Trisko, and her friends, Miss Earth Philippines Karla Paula, Miss Earth Singapore Ivy Leow Kian Peng and Miss Fashion Truong Tri Truc Diem from Vietnam will work to promote green tourism at the expo.  
Adding glamorous beauty to the expo on the first day was Miss Universe Viet Nam Nguyen Thuy Lam who was among the top 15 contestants in the Miss Universe 2008 pageant.  
In the following days, the beauties will participate in some environmental activities including picking up litter from a beach, planting mangroves and celebrating the Mid-Autumn Festival with homeless children at a charity home.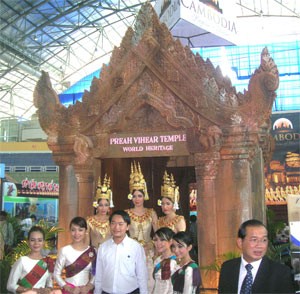 A model of Preah Vihear Temple of Cambodia is set up at the expo (Photo: Truong Son)
It is being supported by the Ministry of Culture, Sports and Tourism and the HCMC People's Committee, Ministry of Industry and Trade, Cambodia's Ministry of Tourism and Laos's National Tourism Administration. Exhibitions Pte. Ltd 
The expo, being held at the Phu Tho Exhibition Centre in District 10, is open only to international buyers for the first two days after which it will open to the public.
Miss Earth Bevy advocate less bikes, more bicycles

SGGP speaks with the Miss Earth beauties attending the international travel expo.
Q: What was your first impression about Viet Nam when you arrived yesterday?"
Jessica: People here are so kind and generous. The reception at the airport was exciting. I loved it.

Q: You come from a different continent and different culture; so you have any idea about ours?
Jessica: I think culture is the most important thing when promoting tourism. I'm so excited with your national dress, national music and many more things about Vietnam. Today I'll have a city tour and it will be a fun experience, I am sure.

Q: Many Asian countries are having environmental pollution problems. What do you think should be done about it?
Jessica: Well, generally, environment is a big thing for us, and we need a lot of help from the government to make it better. My main advice is that the use of bicycles should be promoted and more people encouraged in using it instead of the motorcycle. We can see that the motorcycles are creating smog and polluting the environment.

Q: Miss Philippines, besides your mission to come here as a green messenger, we also know that you will help promote tourism in your country at the expo. Can you make a comparison with the tourism sector here?
Karla: Well, I cannot give an exact comparison now, since I do not know a lot about your country. But as I saw, there are some similarities between our countries. The most visible one is that there are a lot of motorcycles riding on the streets. I'm very happy that we are trying to implement some projects to make our environment better.

Q: What would be your message for tourists?
Karla: Oh, my advice would be that you should not miss any chance to enjoy all the sightseeing around, since different cities are differently beautiful with different cultures and different people. Once you try to discover more, you will feel happier.

Q: Miss Singapore, you come from a country which is famous for its environmental initiatives, what do you think about ours?
Ivy: I think that your country is doing well, but not many good results have been achieved yet, since the actions are in the first stage of the whole big mission. So the attempt should continue.

Q: So you have any recommendation?
Ivy: Oh your government should notice and let the people understand the mission of your country. Basically, I believe that once people know it from their heart, they will learn how to make the environment better. Moreover, people should choose to use buses or bicycles to prevent more polluted air being released into the environment.

Q: Did all of you have a good time at the Miss Ao Dai Shop?
Jessica: Yes, absolutely loved it. Even though I was trying it for the first time, it felt so comfortable and beautiful.
Karla: I agree with you. I was so amazed by the elegant beauty of the dress and excited when I wore it for the first time.