International tourists to Vietnam posted a year on year increase of 23.2 percent, reaching 812,000 in October, making it the fourth consecutive month when the number topped 800,000 visitors.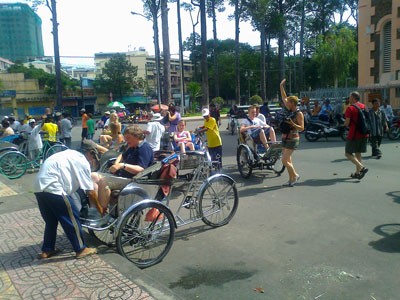 Foreign visitors in Ho Chi Minh City (photo: U. Phuong)
The most increase was from Asia with 26.8 percent, followed by Europe with 14.7 percent, America 11.9 percent, Australia 11.8 percent and Africa 10.5 percent.
Despite the year on year increase, the number reduced 0.1 percent over September because of influences from typhoon Sarika and flooding in the central region.
For the last ten months, the number of international visitors to Vietnam neared 8.1 million, up 25.4 percent over the same period last year.
The ratio of foreign visitors to the country by air increased most hitting 31.1 percent, road soared 4.6 percent, seaway dropped 31.1 percent.
Among Asian markets, China and South Korea continued surging strongly.
Europe and Russia hiked 27.1 percent, the UK 21.7 percent, France 13.3 percent and Germany 18.5 percent. In America, the US posted an increase of 14.2 percent to touch as high as 461,300 visitors.