Ministry of Foreign Affairs of Vietnam in collaboration with the People's Committee of Quang Binh province yesterday welcomed foreign ambassador delegation from Argentina, Sweden, Italy, the United Kingdom, Australia, Republic of Czech, UNESCO representative and the United States Assistant Secretary in Vietnam whose will take part in an adventure tour inside Son Doong Cave, the world's biggest natural cave.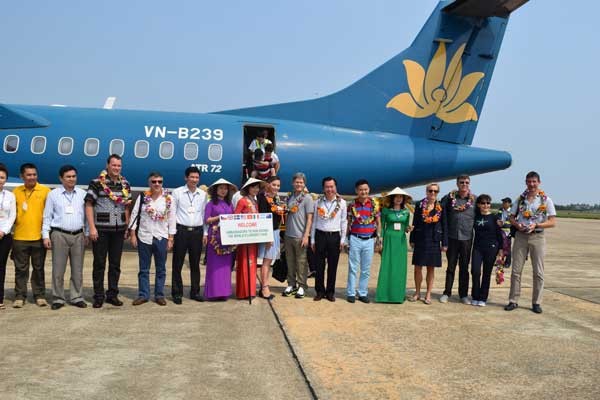 The delegation arrive in Vietnam to start Son Doong adventure tour -Photo: SGGP
Deputy Chairman of the Quang Binh province Tran Tien Dung said: "Son Doong is a special natural cave. In 2013, local authority allowed to open an exclusive adventure tour and to date, Quang Binh's tourism industry has received nearly 1, 000 tourists to Son Doong Cave.

The delegation members expressed their excitement before the incoming journey; and they affirmed that the journey aims to contribute to not only advertise Vietnam's tourism industry and beauty of Son Doong Cave but also preserve the natural resource values, the world's natural heritages.
Mrs. Camilla Mellander, a Swedish ambassador shared: "I had ever arrived in Quang Binh and joined in other adventure tours like Va and (En) Swallow Cave. I hoped that this journey will bring a wonderful experience for me and the members".
The participants have been trained health knowledge as well as skills concerning to adventure tourist. Son Doong Cave located in Quang Binh Province's Phong Nha Ke Bang National Park recognized as a world natural heritage site by UNESCO and selected for the first position in the list of  25 great new destinations in the 21st century by the Smithsonian, a magazine on science, history, art, popular culture and innovation.