Vietnam welcomed more than 460,000 international visitors in April, up 6.3 percent against the same period last year, according to the General Statistics Office (GSO).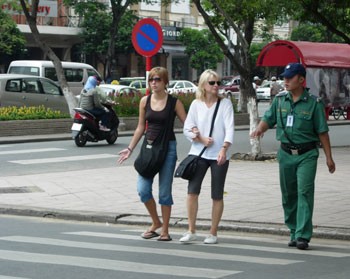 Foreign tourists in Ho Chi Minh City (Photo:KK)
In the first four months of the year, the number of foreign tourists to Vietnam reached over 1.9 million, representing a year-on-year increase of 10.5 percent.
Despite the recent earthquake and tsunami, Japanese visitors to Vietnam still numbered 177,000, up 21 percent.
Vietnam also saw remarkable increases in the numbers of tourists from China with 20.4 percent; the US, 6.8 percent; the Republic of Korea, 6.6 percent; France, 6.3 percent; and Australia, 5.7 percent.