According to the information from General Directorate of Tourism, Vietnam received more than 7, 2 million international tourists in the first nine months of 2016, increasing 25, 7 percent in comparison with the same period last year.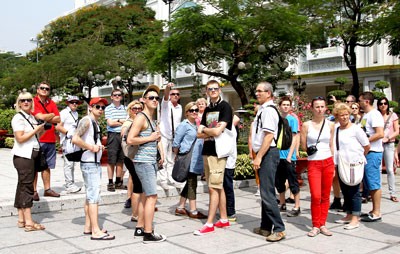 International arrivals to Vietnam increase sharply. (Photo:SGGP)
Total tourism turnover from the foreign visitors attained US$ 8 billion.
Accordingly, most of international visitor markets has reached a rapid growth rate, including Hong Kong (up 79 percent), China (57, 7 percent), Korea (nearly 40 percent), Thailand (34 percent), New Zealand (31, 7 percent), Italia (31 percent), Spain (nearly 28 percent), Russia (nearly 26, 5 percent), Netherlands (24, 4 percent) and Sweden (23, 8 percent)
Besides that, the number of domestic travelers reached 48, 8 million with its total turnover of VND 121, 800.
Total turnover from domestic and international arrivals were nearly VND 297, 200 billion, an increase of 20 percent over the same period last year.