Food&Hotel Vietnam, an established international food and hospitality trade event held every two years in the country, expects 360 exhibitors to be present at the show held in Ho Chi Minh City Sep. 28-30, the organizers announced here Tuesday.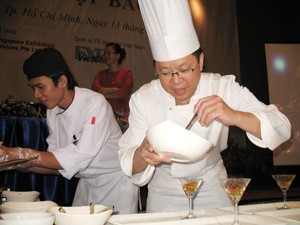 Vincent Tan (R), Executive chef of the five-star Equatorial Saigon Hotel, makes a dish during Tuesday's press conference on Food&Hotel Vietnam 2011. The hotel will compete in a culinary challenge that is part of the trade show. (Photo: Tuong Thuy)
Exhibitors that have registered come from Australia, Belgium, Cambodia, Canada, Chile, China, Denmark, France, Germany, Hong Kong, India, Indonesia, Italy, Japan, Korea, Malaysia, the Netherlands, the Philippines, Russia, Saudi Arabia, Singapore, Spain, Sweden, Switzerland, Taiwan, Thailand, Turkey, the United Kingdom, the US and Vietnam, according to Ms. Ting Siew Mui.
The venue is the Saigon Exhibition and Convention Center in District 7, said Ms Mui, who comes from Singapore Exhibition Services Pte Ltd and is the Food&Hotel Vietnam 2011 project director.
Her company co-organizes the three-day event with its Vietnamese partner – VCCI Exhibition Service Co Ltd.
More than 70% of this year's exhibitors come from overseas, she said.
A total of 15 national pavilions will be present, including ones from Australia, Belgium, France, Germany, Korea (with 8 booths), Poland, Singapore and the US, said the Singaporean businesswoman.
The food and drinks category will include a wide and diverse range, covering drinks and beverages, wines, spirits and beer, chilled and frozen food, confectionery, snacks and ice cream, dairy products, fresh produce, seafood, as well as processed and convenience foods, according to the organizers.
The international trade show has been organized every two years in Vietnam since 2004.