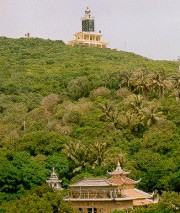 The lighthouse on the Phu Quy Island
Investment projects in Phu Quy Island, Ninh Thuan Province, will enjoy preferential treatment, which, according to a recent decision by the Prime Minister, will be applied in localities with a poor socio-economy.
Accordingly, the business income tax rate is 10 percent in 15 years, whilst some taxes will be reduced or exempt.
The central budget will also be spent on construction of the island's infrastructure, such as improving Phu Quy airport and Trieu Duong Port, etc.