Four Vietnamese and foreign investors have registered to build a so-called National Multifunctional Tourism Complex in Hoi An on the central coast, the chairman of the Hoi An People's Committee has announced.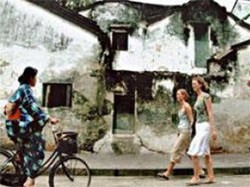 Foreign visitors visit Hoi An town
The VND300-billion project is one of 20 National Multifunctional Tourism Complexes approved for development by the prime minister.

The one in Hoi An will take up 125 hectares of Thanh Ha and Cam Pho wards and be divided into 15 sections.

It will include a temple to commemorate the nation's founders (the Hung kings), convention center, museum displaying relics from the first millennium Sa Huynh culture, entertainment area and green park.

The People's Committee of Quang Nam Province has directed Hoi An's Department of Tourism and Center of Culture and Sport to plan a road show for promoting the province's tourism potential in Bangkok and an overland surveying trip through Viet Nam, Laos and Cambodia involving local travel firms.