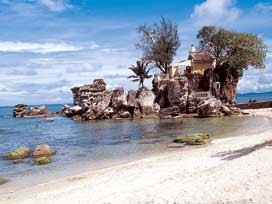 Phu Quoc Island in Kien Giang Province of Viet Nam
Some 150 local and foreign investors are queuing up to submit their registration files for their projects aiming at tourism infrastructure in Phu Quoc Island, 65 miles off the south-west coast of Viet Nam.

However, only 46 projects over the total area of 2,000 hectares of land have been approved.
The VND2,500 billion Duong To International Airport project is now luring to many big foreign groups asking for join-venture.
The beautiful island seems to be overwhelmed with large-scale and exclusive projects of foreign investors.
An American group is busy running the license for a project on the Phu Quoc-based resort complex and a five-star casino.