One hundred visitors representing tourism associations, travel agents, and the media from Japan and Korea will arrived in Nha Trang this week on a familiarization trip, Nguyen Van Thanh, head of Khanh Hoa Province's tourism agency, said.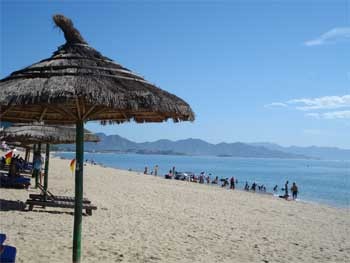 Nha Trang beach (Photo:Khanh An)
Officials from the Viet Nam National Administration of Tourism (VNAT) and nearly 100 journalists and executives from travel companies, hotels, and golf courses around Viet Nam are in the resort town to receive the visitors and take part in tourism seminars to be held from October 1 to 5.
Viet Nam is becoming an increasingly popular destination for foreign tourists, especially Japanese and Koreans. But most head just for Ha Noi or Ho Chi Minh City. Nha Trang, a beautiful beach town, is not well-known in the two Asian countries.

The Khanh Hoa Tourism Trade Promotion Center plans to introduce several attractions, including Nha Trang's tourism potential, and places of accommodation to the visitors.

More than 400,000 Japanese and Korean tourists arrived in Viet Nam in the first half of this year. Of them, 165,000 visited Nha Trang.