The People's Committee of the southern province of Kien Giang is taking steps to improve tourist activity between Kien Giang and locations in Cambodia and Thailand. Areas to be improved include the land border crossing of Xa Xia, the sea route crossing on high-speed boats from Phu Quoc Island, and the air route border crossing from the future Phu Quoc International Airport. The improvements are aimed at attracting international visitors from Singapore, Malaysia, Thailand, and Cambodia into this southern region of Viet Nam.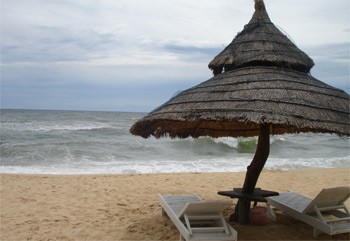 Bai Truoc beach in the Kien Giang's Phu Quoc Island
The provincial authorities have determined that tourism is a key industry in Kien Giang, and needs to be exploited maximize revenues for the province. They are interested in making specific improvements of the local infrastructure in order to develop tourist areas and main roads. One of the major areas the officials are looking to improve is in the transportation systems, especially at the border crossings.
The Kien Giang Province is bordered by Cambodia's southern province of Kampot, with a crossing at the Xa Xia border gate, and the Kompongsom port. It also has Phu Quoc Island and hundreds of kilometers of coastline in the Gulf of Thailand. The Gulf of Thailand has numerous popular tourist destinations such as Sihanoukville in Cambodia and Phuket Island in Thailand. Therefore, Kien Giang is situated in a place in Viet Nam that has the potential for added international exposure, and as a result, can create easier access for tourists into the country.
Besides making the main roads more easily passable, the province is now in the middle of construction on the new Phu Quoc International Airport. If this airport could offer regular flights between other popular tourist destinations in the Gulf of Thailand region, Kien Giang stands to gain not just from the tourists, but from the business investments dollars that would accompany them.
In addition to the Phu Quoc International Airport, the municipal government is making upgrades to the Xa Xia international border gate. Consequently, the policies of the People's Committee of Kien Giang Province on transportation investment, coupled with numerous business incentives for local investment, have enabled the region to be able to attract investors such as Vinaconex (Viet Nam Construction and Import Export Corporation), and Victoria (hotel and resort chain).
The tourism departments of the Mekong Delta's provinces are also working to promote the area to international travel agents. By creating discount packages, coordinating tourist services, and offering new tours to market the region, they hope to highlight the area as an ideal destination for years to come.