Viet Nam was elected as a vice-chair representing the Asian-Pacific countries at the 19th International Co-ordinating Council of the UNESCO's Man and the Biosphere (MAB) Program, which was organized in Paris, France from Oct 23 to 27. Russia, Chile, Ethiopia and Sudan were aslo elected as vice-chairs for other country groups, and the chair position went to Sweden.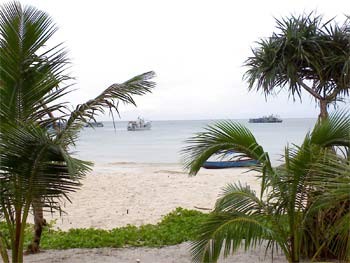 Phu Quoc Sea, a favourite destination in Kien Giang Province (Photo: KK)
It is the first time that Viet Nam has taken part in such a meeting as a member of the council.
The coastal areas and seas of Kien Giang province were recognized as the world's biosphere reserve by UNESCO. Viet Nam has therefore until now had in all five world-recognized biosphere reserves with the other four being Can Gio, Cat Tien, Cat Ba and the Hong River delta.
The UNESCO's MAB Program is an interdisciplinary program of research and training intended to develop the basis, within the natural and the social sciences, for the rational use and conservation of the resources of the biosphere, and for the improvement of the global relationship between people and the environment.
The MAB council consists of 34 Member States elected for a 4-year term. It meets biennially to review and approve reports from countries and areas of the biosphere reserve networks, set developmental direction and manage the global biosphere reserves and decide upon nominations for designations of biosphere reserves.
Link: www.unesco.org/mab/icc/bureau.shtml