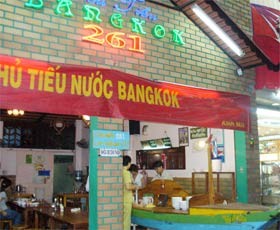 Bangkok Noodle Restaurant in Ho Chi Minh City (Photo:TK)
In Thai language,
Lua
means
boat. Kuay-tiew-lua
is a kind of old-style noodle soup which is popularly served on simple small floating boats in the Kingdom of Thailand. Nowadays, people living in Ho Chi Minh City can easily find the unique noodle soup in an impressive restaurant in Tan Binh District.
Having been settling in Ho Chi Minh City for nearly six years, Mr.Kit, a Thailander, established his restaurant in early 2005. He is now the owner and chief of the Bangkok Noodle Restaurant at 261 CMT8 Street, Tan Binh District, Ho Chi Minh City.
"I understand that the Vietnamese have long been acquainted with some of Thailand's food. However, this is the first time they can enjoy kuay-tiew-lua, a very popular and typical rice noodle soup from my homeland," said Mr.Kit in fluent Vietnamese.
First impressions
The first thing which creates a very favorable impression on visitors as they enter the Bangkok Noodle Restaurant is a big boat, also the restaurant's cooking area, welcoming customers and acting as if it were ready to sail across a sea of bustling people at rush hours in Ho Chi Minh City.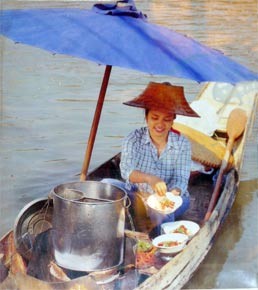 A simple floating restaurant which serves kuay tiew lua in Thailand (Photo:TK)
As explained by the restaurant owner, the boat emerges as a very meaningful symbol of Thailand noodle gastronomy when there are many rivers in the Mekong country of Thailand and the kuay-tiew-lua has been widely served for people traveling on boats, especially since the old days.
Visitors to the restaurant can wallow in a unique environment of Thailand via Thai music and various colorful decorations marking the cultural values and beliefs of the Thai people.
"I believe that this is the only restaurant in Viet Nam which serves the special noodle soup as well as other significant foods from my homeland. This will also create a chance for everyone from other parts of Viet Nam to get closer access to, and better understanding of, their fraternal country," said Mr. Kit.
Then the food comes
Once you have "nung gon", which means sat down in the restaurant, you can see from the restaurant's shelf the "look chin", or meat balls, a basic ingredient that you can add to your noodle soup. Sometimes they are made from fish or pork. These would then be look chin bplaa.
Having close relationships with other Thai spice businessmen in Ho Chi Minh City, Mr.Kit can purchase all the necessary ingredients from Thailand and then use them for his soup.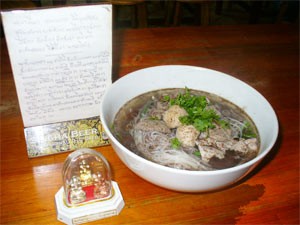 Kuay-tiew-lua is served in big bowl. (Photo:TK)
Like the Vietnamese famous "Pho" noodle, the kuay-tiew-lua is served in big bowl, with broth cooked with pork bones and vegetables such as radish, cabbage and spring onions.
To eat the noodles, you must use a pair of chopsticks and a large Chinese-style spoon. On the table you will find some pink tissues. Use them to wipe your chopsticks and spoon before enjoying the food.
Besides the kuay-tiew-lua, other foods in the restaurant are sen lek, a medium flat rice flour noodle and Pad Thai, a very famous dish of Thai rice noodles, stir-fried with chicken, pork, beef, or tofu with egg, fried bean cakes, onions, bean sprouts and topped with ground peanut.

Spicy fried rice, commonly served in Thailand with chicken, beef, pork, or tofu, and sautéed with onion, baby corns, chilies, bell pepper and sweet basil in spicy garlic-chili sauce, is also available at the restaurant.

Open daily from 7a.m. to 11a.m. and 4p.m. to 11p.m., the restaurant is a good place for out-eaters' appetite. The price range for each dish is only VND12,000 -30,000, and the sevice is great. It is well worth for us trying to see whether the Bangkok Noodle Restaurant is a "miniature of Bangkok in Saigon".