Many foreign insurers enter Vietnam, helping diversify the country's insurance product range and improve the competitiveness between insurers, according to the market consultancy Research and Markets.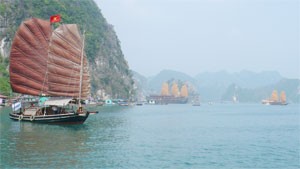 Tourist boats in Ha Long Bay in the central province of Quang Ninh. A few local tour operators offer tourists travel insurance (Photo: Phan Hien)
However, travel insurance remains underdeveloped, the firm says.
The Vietnam Tourism Law put an onus on travel agencies to buy insurance for local customers.
Yet, figures from the Association of Vietnamese Insurers show 95 percent of around 22.5 million foreign and local tourists were not offered travel insurance last year.
Vietnam has vowed to crack down on tour boat safety after foreign visitors had a lucky escape from their sinking vessel, in an eerie echo of a fatal accident earlier this year.
There were no injuries in the incident, which involved 28 French tourists in May at the popular attraction of Ha Long Bay.
Analysts say just a few tourism enterprises in HCMC notices the important role of travel insurance, while the rest offer the insurance to foreign customers only.
Thus, they struggle with a large amount of travelers, leaving their market share being captured by foreign-owned rivals.
Many foreign travelers say that they favor foreign-owned tour operators in Vietnam over local ones as the formers always offer travel insurance.
"The travel insurance is a passport, which can ensure travelers' safety," Sara Hub, a Netherlands businesswoman, told Dau Tu Tai Chinh Newspaper.
"Not all travel agencies in Vietnam can offer that, so I opt for foreign operators."
Travel insurance cost of local tours is very low, amounting to only VND1,500 per day for locals and US$1.5 per day for foreigners.
Despite the low cost, most Vietnamese tour operators still try to shun it.
A director of a travel agency in Ho Chi Minh City, who asks not to be named, says most customers opt for low-cost tours during the current difficult period.
Therefore, travel agencies try to reduce costs as much as possible.
There are four main kinds of travel insurance in Vietnam, including insurance for local tours, one for Vietnamese tourists traveling to foreign countries, one for foreigners visiting Vietnam and one for foreigners living in Vietnam, who want to travel to foreign countries.