The Vietnam National Administration of Tourism (VNAT) launched an urgent dispatch April 12 calling on local travel companies not to book trips for Vietnamese visitors to Thailand in the midst of the current volatile political situation in Bangkok.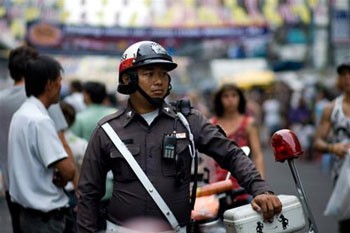 A police officer stands guard in Bangkok, Thailand, where several people have recently been killed or injured in political clashes. (Photo: Reuters)
VNAT asked city and provincial departments of culture, sports and tourism throughout the country to issue the directive to all travel companies that offer tours to Thailand.
Pichai Raktasinha, director of the HCMC office of the Tourism Authority of Thailand (TAT), said the number of Vietnamese tourists to Thailand had recently decreased by 50 percent.
Some hotel associations in Chiang Mai, Thailand and other Thai provinces are now offering discounts on rooms of up to 50 percent, but in the wake of the recent political turmoil, there are fewer travelers, he said.
Most tour operators in Vietnam are following the advice to suspend tours to politically unstable areas in Thailand for now to protect guests' safety.
They have been advised to instead arrange tours to other destinations in Thailand like Pattaya and Phuket rather than Bangkok.