Tourist companies are overjoyed with the sudden increase in tour bookings because of the long New Year holidays at year end as well as the coming lengthy Tet holidays.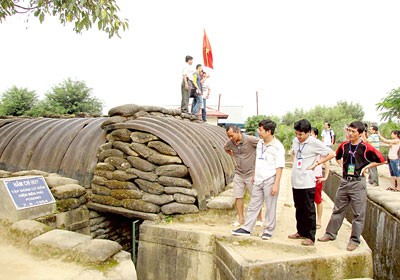 The file photo shows tourists visiting the hideout of French General De Castries at Dien Bien Phu Battle in 1945 (Photo: SGGP)
Nguyen Minh Man, deputy director of marketing and communications at Viet Travel Company, said that people have four days off for New Year at end of December and nine days off during Lunar New Year in February next. These long holidays have brought cheer to the tourism industry which has been reeling under economic woes of late.
Man said his company will provide more than 300 Tet tours, and from the end of December until March next year, the company is expected to serve about 75,000 visitors, an increase of 25 percent year-on-year. All tours to the northern and central regions are already fully booked.
Customers have mainly booked for tours to Hanoi, Sapa, Hoi An, Hue and Da Nang and some tourist destinations in northern mountainous areas.
Because of the long holidays, trips of upto six days are attracting visitors on not only domestic routes but also foreign routes like the US, Europe, South Korea and Japan.
 
Saigon Tourist Company is expected to receive 6,000 visitors at the end of December for New Year and 20,000 during Tet Lunar New Year, an increase of 10-15 percent.
Tours departing on the second day of Lunar New Year are fully booked, and only tours to Europe, Australia and the US still have availability.
Doan Thi Thanh Tra, head of marketing at Saigon Tourist, said that they will not increase tour prices during either of the New Years and will give visitors some additional services. Only tours to Thailand and Singapore will see the price go up by 5-7 percent due to increase in air fares.
Fiditour Company has introduced more than 200 spring tours internally as well as abroad with many new and interesting destinations. The company will offer discounts during the Solar New Year and give gifts to visitors.
Viet Media Travel Corporation has also reduced each tour price by VND3 million (US$144) for bookings before December 31 for travel during Tet Lunar New Year. Group tours will enjoy further discounts.
The company is expecting to receive about 6,000 visitors during the Tet festival, of which 60 percent will travel abroad.