The world's longest sea-crossing telpher will be built by Sofitel VinPearl Hotel Resort & Spa to join Hon Tre Island to Nha Trang City. The telpher is expected to push the development of Nha Trang bay, one of the most beautiful in the world, to become a big tourism center in the country and in Association of South-East Asian Nations (ASEAN).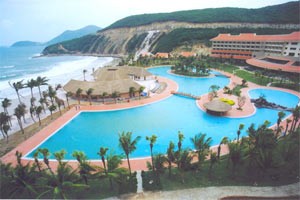 Sofitel VinPearl Hotel Resort and Spa on Hon Tre Island, Nha Trang.
With the length of 3,310 meters, it will be one of the most modern telpher in the world. The telpher can accommodate eight passengers each and travel at a speed of 6 meters a second. The service will be started early December, 2006.
Besides Sofitel VinPearl Hotel Resort & Spa  is also carrying out phase 2 of its multi-functional entertainment and tourism complex which consists of large-scale projects, such as the world's longest sea-crossing telpher, outdoor theater, cuisine garden of Vietnamese seafood, meeting rooms, Spas, the water world, Vinpearl resort II, golf club and high-class villas. Especially, there are also street shopping malls and a craft village with more than 100 stalls. 
Work is expected to complete in August, 2006 to serve Miss Viet Nam 2006 and APEC's meetings which will take place here at the end of 2006.