Syrena Viet Nam, a subsidiary of BIM Group, will begin selling its second group of units on August 9 at Van Lien (Lotus Residences), a luxury resort townhouse project in Halong Marina Urban Area.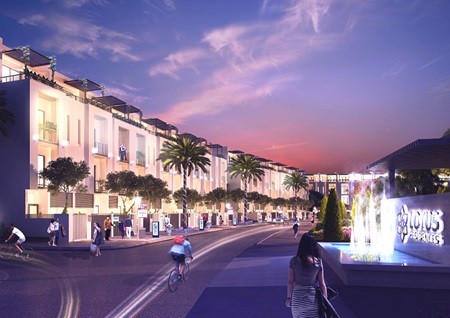 Lotus Residences received much attention from buyers, with all 48 units purchased during the first sale held at the end of June. — VNS Photo
This second offering will make available 72 resort townhouses. The sale in Quang Ninh Province is expected to see interest by hundreds of buyers from Ha Noi, Quang Ninh, Hai Phong, along with other neighbouring provinces and cities.
The sale of Lotus Residences adds to the hot resort property market, which has been busy since the beginning of this year in the country's north.
Also, at the opening of the sale on August 9, the developer will share with investors and buyers updated information about the northern Quang Ninh Province's real estate market, especially the luxury resort property segment as well as its development potential and investment opportunities.
Lotus Residences received much attention from buyers, with all 48 units purchased during the first sale held at the end of June. Lotus Residences, covering 40,000 square metres with 159 townhouses, is one among high-profile projects in Halong Marina Urban Area and is set in a prime location in the urban area.
According to Syrena Viet Nam, since the beginning of 2015 the resort property market has warmed up significantly, with the emergence of many projects worth billions of dollars.
However, as investors are becoming increasingly strict in the selection of real estate products following the market crash in 2008, only by providing quality and promising a high return on investment could residential projects attract buyers.
With experiences in the hotel construction, management and operations, combined with thorough market research, Syrena Viet Nam said it believed that Lotus Residences would meet market expectations and provide valuable opportunities to own beach-front townhouses in the tourism city.
The success of the first sale of Lotus Residences signaled that the resort property segment was recovering, according to Syrena Viet Nam.
A representative from G5 Property Trading Floor Alliance, Lotus Residences' distributor, said the attraction of the project is not only coming from its prime beachfront location, but also due to the promise of profits. As the rental pool system will be put in place at Lotus Residences, the developer guarantees an annual fixed profit of 5 per cent of townhouse values in the first two years and 65 per cent of leasing profits from the third year. Homeowners will enjoy 60 days of accomodation and use for free.
Lotus Residences' 4-storey townhouses have areas ranging between 95 square metres to 130 square metres.
The project has resort-like amenities, including all-season swimming pool, modern gym, green park and children's playground. Also, there is connectivity with other recreational and tourism centres, such as Halong Marine Plaza, Ha Ling Night Market, Bãi Chay Beach and Tuan Chau Complex.
In the second sale, buyers will have the chance to join a lucky draw for a Mazda 6 automobile.
The project is expected to be completed in the third quarter of this year after 14 months of construction.