The stunning 500-meter long Buddha Cavern, 18 kilometers from the Northern Province of Ninh Binh, is known for its breathtaking scenery and its exotic cluster of sparkling stalactites.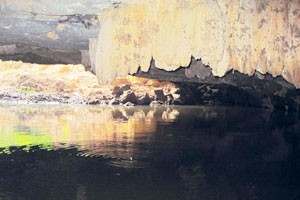 View of the Buddha Cavern from inside
One particular stalactite, 1.5-meters high and 2-meters wide, stands out in the centre of the Cavern appearing to resemble the form of Buddha.
Before entering the Cavern, tourists cross a serene and quiet forested area by rowboat. Upon reaching the Cavern the scenery changes to spectacularly colorful stalactites in strange shapes hanging from the roof of the Cavern.
This vast illusory space seems to overwhelm visitors and ignite imagination. The deeper they go into the cave, the more they are captivated by its irresistible mystery.
When visiting this beautiful spot, tourists can not only admire its enchanting natural beauty but also the rustic charm of the surrounding life and tradition of wet rice fields. They can even try their hand in herding buffaloes, catching fish, crabs and husking rice!
   
Not surprising that the Buddha Cavern is designated as one of the most beautiful caverns in Vietnam, with it magnetic and unique charm.