The central coastal region is famous for beautiful and pristine beaches and has attracted many tourism investment projects in recent years.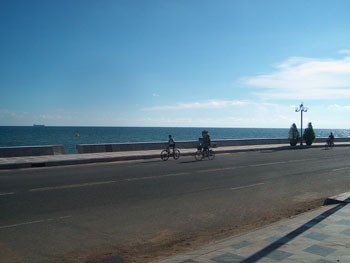 Beautiful coastal roads attract many tourist projects. (Photo: KK)
My Khe and Sa Huynh beaches in Quang Ngai Province were planned as ecological tourist attractions since 2000, however, so far none of the projects have taken shape.
Tens of projects for building tourist complexes had been approved, but not carried out, because of land compensation and site clearance delays, causing huge inconvenience and distress to local residents. They cannot build houses on their land and have lost their farmland as well.
Quang Ngai has currently 75 pending projects. The local authorities have revoked licenses of 11 slow-moving developers, granted an extension to 60 projects and examined four plans.
The coastal road in Hoai Nhon District in Binh Dinh Province which is one of the most beautiful coastal roads in the Central Region has attracted nine tourist projects worth VND15,000 billion.
They include Nhon Hoi Trade Center covering an area of 94 hectares at a total cost of VND181 billion, implemented in 2007 by Quoc Thang Company. To date, fewer than half of the projects have been implemented.
The Rainbow Resort licensed in 2006, on an area of 56 hectares, was kicked off in 2009 and is expected to complete in 2014.
Another high end resort worth VND1,840 billion by Binh Dinh Youth Company was kicked off in 2009. The investor has spent about VND14.6 billion to carry out the project while mainly focusing on exploiting titanium.
Tourist projects like Vinh Hoi Hotel, Linh Phong ecological and cultural-spiritual tourism site, Hai Giang tourist area have been slow in implementing.
Binh Dinh Province has delegated investors to continue to develop Hai Giang tourist area and Vinh Hoi Hotel, and examined and revoked projects that have not become financially viable.