In context of the current economic woes in the world, the tourism sector is still striving to attract more people to visit the Mekong Delta area in Vietnam, which is offering unique, stress free and exotic tours.
A tourist guide is introducing story and structure of Huynh Thuy Le ancient house in the Mekong delta province of Dong Thap ( Photo: SGGP)
Cambodia, Laos, Myanmar and Vietnam, the four countries strategically located in the lower Mekong sub-region, will jointly work towards boosting tourism potential in this area, as discussed in a recent meeting themed 'Four Countries-One Destination'.
Discussions were held in the meeting on how to attract more investments for tourism projects in the Mekong Delta sub region, Vietnam's rice basket, and a current target for tourism promotion by Vietnam, Laos, Cambodia and Myanmar.
The Ministry of Culture, Sports and Tourism has approved a plan to develop tourism as a key economic sector in the Mekong Delta. The plan, which extends till 2020, will aid the country's economic transformation and help reduce hunger and poverty, according to the ministry.
Thanks to its cultural diversity and the range of tourism it offers, such as eco, community-based, sea and islands, and diverse culture, the Mekong Delta attracts millions of visitors each year.
According to the Mekong Delta Tourism Association, around 12.8 million holidaymakers have visited the region since the beginning of the year, a year-on-year increase of 6 percent and a turnover of more than VND2.6 trillion ($125 million), an increase of 25 percent compared to last year.
In provinces like An Giang, in October alone, the province has welcomed around 28,000 tourists, an increase of 2.6 percent compared to September. Among them were around 2,300 international travelers, an increase of 6.7 percent compared to September. October turnover alone was VND17 billion ($815,662), an increase of 3.9 percent compared to last month.
There was a hike in holidaymakers from North Vietnam to the Mekong Delta and Cambodia, said Nguyen Dai Ho, director of the Phuong Nam Travel Company in Kien Giang. Accordingly, the company in coordination with the Hon Gai Tourism Company launched a new route Hanoi-Ho Chi Minh-Tay Ninh-Ha Tien-Phu Quoc-Hanoi.
Kim Trang from the Hanoi Tourism Company shared that every month her company organizes a tour for six groups of 30 tourists who want to go to the Mekong delta city of Can Tho to listen to amateur music on a boat along the river, visit orchards in the Mekong delta province of Tien Giang, and the Mac Cuu mausoleum in the town of Ha Tien, in the Mekong Delta province of Kien Giang.
Tommy, a representative of Fantasy Tour Company, said Vietnam has the magnificent Mekong River which foreigners love as it flows through six countries. His customers are interested in culture of the region, the natives and the natural beauty, rather than luxury hotels and sea bathing.
Foreign tourists have a good eye for the Mekong River and 40 percent of tourists here are Japanese, said Nguyen Duc Tho, a tourist guide of HCMC-based Le Phong Travel Company.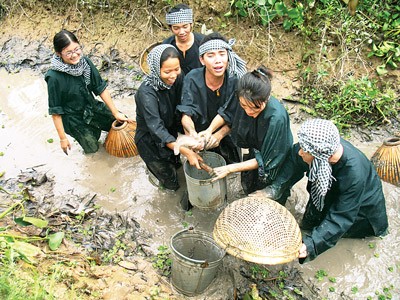 'Work as a Farmer' day tour in the Mekong Delta has attracted many young tourists (Photo: SGGP)
Recently, Dien Quan Media Company led a world famous Chinese American chef Martin Yan for a sightseeing tour of the Mekong Delta for a 26 episode show titled 'Martin-Taste of Vietnam' to promote Vietnamese cuisine across the globe. The organizers are aiming to broadcast the show on several US channels in addition to domestic TV networks.
Le Van Hien, chairman of Cuu Long Tourism Company, said the Mekong Delta Tourism Association and local tourism associations should train more tourist guides, waiters, and restore traditional festivals of ethnic minority groups like Khmer, Chinese, and Cham.
More important was how to link the uniqueness of each province and build an alluring image of the whole region and offering specific tourism packages .
There is also need to attract more investments and improve the basic infrastructure and accommodation since the region has the lowest rates of five-star hotels and resorts in Vietnam, said Hai Dang, Director of Vietravel Tourism Company.