American billionaire Richard Andrew spent US$1 million for a wedding which took place at the Nam Hai resort in Hoi An on May 24-29.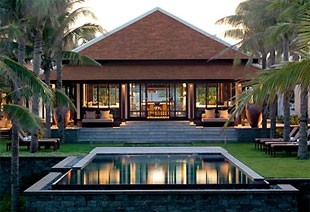 The Nam Hai resort
Mr. Andrew and Ms. Marina Nacheva, his Russian bride, are both working in field of investment finance in Moscow. They fell in love when they first met in Hoi An 11 years ago.
More than 200 visitors from Russia, America, South Korea, and Hong Kong arrived in Hoi An for the wedding. The couple released paper lanterns which floated into the sky to pray for a love that lasts forever.
"The couple booked rooms at a price of US $750 for their visitors and spent a lot of money on water sports and outdoor activities," said Mr. Dinh Van Loc, director of Viet Da Company in Da Nang, organizer of the event.
The couple left Hoi An Thursday to tour to Siem Reap in Cambodia for their honeymoon.