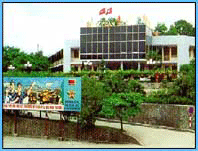 Ha Tu Coal Company
The Tourism Department of Quang Ninh Province and tourist enterprises made a survey of Ha Tu Coal Company in Ha Long bay, wishing to turn it into a site for visitors who will want to see an old coal mine and mining work after visiting Ha Long Bay.
It is really a new and attractive serivce for visitors who like discovery tours, aiming to diversify Quang Ninh's tourist products.
After the survey, many tourist enterprises have plans to include these tours into their  business programs.
The province's relevant departments will design this tour and improve infrastructure to bring visitors to the coal mines in Quang Ninh.